Brewery shop is back online with e-retailer
Posted on May 24, 2010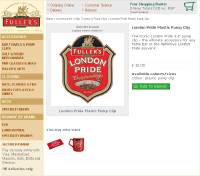 The Fuller's online shop
Related links
Just in time for Father's Day on 20th June 2010, the Fuller's brewery shop is back online for unique merchandising - bigger and better than before!
Using Smart Media's e-retailer software, the Fuller's brewery shop successfully launched its new and improved online sales outlet in May 2010.

The store is seamlessly integrated to the main corporate website and offers a selection of fine Fuller's merchandise - from golf balls to rugby shirts and those famous brand bar towels and fabulous beer glasses, fit for the finest dining table.