Housing Association relaunches with Intelligent WebCentre
Posted on Apr 28, 2010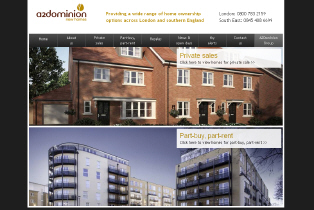 A2Dominion New Homes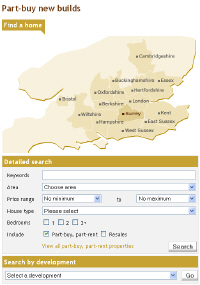 Part-buy part-rent section
A2Dominion, the leading housing association in London, brings new homes back to home to the corporate A2Dominion website.
Working in partnership with Smart Media, A2Dominion have successfully launched their A2Dominion New Homes site, uniting their online portfolio of private sale and shared ownership properties under a single brand - a one-stop shop for homebuyers in London and south England.

The website is split into three sections targeting and meeting the differing needs of both private buyers and potential part-buy, part-rent homeowners. Under the distinct and instantly recognisable new brand, the A2Dominion New Homes offers the same interactive elements that not only make it easy for potential homebuyers to find suitable property, but also give them a reason to return to the website.

The A2Dominion New Homes website showcases private sale, resale and part-buy, part-rent properties in London and south England. Users can easily search for suitable properties in each of these categories and there are some neat interactive features that assist home buyers in their property search:


Show on map: After setting their search criteria on the A2Dominion New Homes search, users are able to view all matching properties on a map. This adds another dimension to the property search, which enables homebuyers to view the locations of available properties in situ.
Shortlist: Registered users can save their favourite properties to a shortlist allowing them to review and compare these later.

Saved searches: This allows property hunters to save their preferred search criteria for viewing later.
Property emails: Registered homebuyers can opt-in to receive automatic emails when new properties matching their saved searches are added to the A2Dominion New Homes site. This acts as an incentive to draw house hunters back to the website.