Online polls provide for public consultation
Posted on Mar 15, 2010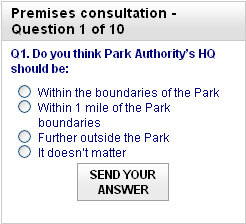 One of the SDNPA premises consultation polls
Related links
England's newest National Park, the South Downs National Park, officially came to effect 1st of April 2010. One of the first public consultations in being conducted online about where the national park authority premises should be located.
The location and type of office premises for the newly formed South Downs National Park Authority (SDNPA) is an important decision and one that is bound to attract public interest. The Interim Management Team needed a way to consult the public regarding the office premises that would make it easy both for members of the public to respond and for the team to gather the results and feedback. Smart Media's Website content management system had the answer - polls.

After defining ten key premises consultation questions and answers, the team created ten polls, which were then displayed on the dedicated Premises consultation page. The polls were up and running on the website in a matter of minutes, which allowed the team to start gathering responses straight away. The layout of the polls on a single page makes it simple for users to respond with a simple point and click to select their answers and submit.

The polls are also effortless to administer. Once live on the SDNPA website, the polls effectively run themselves and each response is fed directly to a database, ready for analysis and viewing in an easy to understand graphical format. No need to manually key in results to a database, or manual try to provide graphs - Intelligent WebCentre polls does the work for you.