Great Lakes! The lengths we go to for our customers
Posted on Sep 14, 2009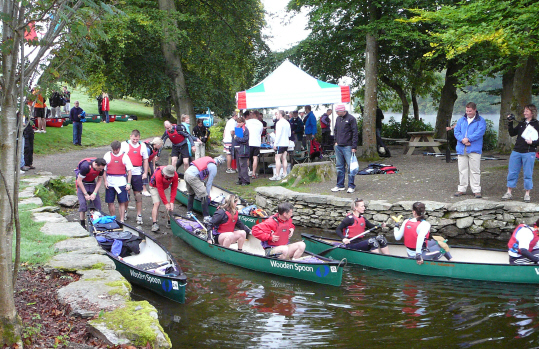 Challengers begin the canoe section.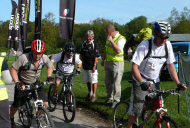 The bike section start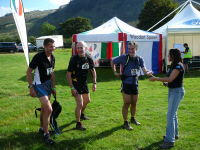 The winners at the finish line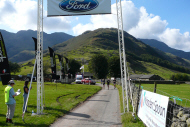 At the finish line
The longest lake, the steepest pass, the highest mountain... Just three obstacles to the successful completion of the 13th Ford Ranger Great Lakeland Challenge
Another year, another successful charity challenge organised by Spoon Challenges. On 11th September 2009, 24 teams of new and seasoned challengers and a merry band of volunteer marshals turned out in force for the 13th triathlon in the Lake District and raised a staggering £114,466.00 for Wooden Spoon, the charity supporting socially, physically and mentally disadvantaged children.

The Great Lakeland Challenge is an intense 12-hour, three section charity challenge for teams of four. It takes real stamina and motivation to row the 10.5 miles across Lake Windermere, cycle 26 miles over 1:3 gradient Wrynose pass and climb 3435 ft/8.5 miles of England's highest peak, Scafell Pike, but the 2009 teams were more than up to the challenge.

Supporting the challengers every step of the way were the Spoon Challenges office team and sterling band of marshals. While the teams were enjoying breakfast and mentally preparing for the challenge ahead, the marshals were already up and organising things at the start line and from then on, at every point of the challenge until greeting the teams at the finish line with cheers and the eagerly anticipated finish line barbecue.


"Even as a newcomer to the world of charity challenges, it is easy to see why teams sign up and keep coming back year after year. There is a real sense of camaraderie among challengers and marshals alike. Each and every person involved with Spoon Challenges strongly believes in the cause and they are all highly motivated in training, fundraising and throughout the challenge. It is also striking how different challengers are - all ages, background and walks of life are covered. Despite the magnitude of the task, it just goes to show that Spoon Challenges are a realistic goal for anyone with the enthusiasm and motivation to give it a go."
Eleanor Howe, Smart Media


Spoon Challenges also organises the Four Peaks, End to End bike ride, Spoon BikeFest and 4x4 on Exmoor challenges as well as putting forward runners for the London Marathon and the Asics 10k London Run.